Rainer Zipperling, Violoncello & Viola da Gamba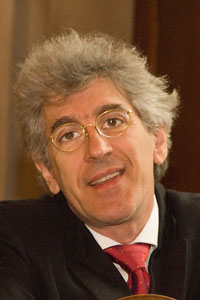 After leaving school Rainer Zipperling began studying music and musicology. His particular interest in baroque music induced him to further his studies in the Netherlands, the pioneer country of 'authentic performance practice'. Whilst still studying he already gained wide experience of concert performance laying the foundations for his later career as a soloist and chamber musician.
He is now one of the most renowned cello and gambe players in the world of early music. He is co-founder of CAMERATA KÖLN (1979) remaining a member until today, but has also played with a range of other notable ensembles. More than 400 recordings verify his professional career as a soloist and accompanist, whether with John Eliot Gardiner and the 'English Baroque Soloists' or the 'Orchestra of the 18th Century' conducted by Frans Brüggens, the 'Ricercar Ensemble' and Philippe Pierlot or Japan's 'Bach Collegium'. He also has set up a duo with the gambist Philippe Pierlot.
Apart from his performance work Rainer enjoys an excellent reputation as a teacher of the violoncello, viola da gamba and chamber music working principally at the conservatoires in Cologne and Leuven/Belgium. From 2003 to 2007 he was affiliated with the Koninklijk Conservatorium in Den Haag as teacher for Viola da Gamba and chamber music. In addition to this he teaches master classes worldwide and distinguishes himself as an editor of unpublished compositions.
In 2001, together with Philippe Pierlot and Francois Fernandez, Rainer founded the record label 'FLORA'. For this label he recorded J. S. Bach's 6 suites for violoncello solo to critical acclaim by the international press. One of his most recent productions has been piano trios by Joseph Haydn and Wolfgang Amadeus Mozart's piano quartets. As a sound engineer he is increasingly responsible for CD productions (www.kelys.org).
Rainer is married to a musician and goldsmith and has two daughters. As a welcome balance to his professional life he can often be found in the kitchen or on his bicycle – preferably in the mountains.
[ Back ]