Karl Kaiser, transverse flute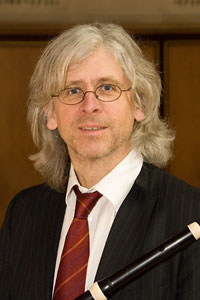 Karl Kaiser studied flute and traverso flute at the conservatoires in Cologne and Münster, and at the same time theology, philosophy and musicology at the universities of Cologne and Bonn, deciding in the end on a career as a professional musician. As a chamber musician he has spent many years working with the ensembles 'Musica Antiqua Köln' and 'Musica Alta Ripa'; with the latter he has recorded the complete works for flute by Johann Sebastian Bach.
Karl has played with CAMERATA KÖLN for nearly 30 years. The position this ensemble takes up in his life is well documented by concerts worldwide, numerous CD productions of a major part of the baroque and pre-classical chamber music repertoire, as well as through scientific research and discoveries of amazing yet unknown musical works.
Karl has been a member of the 'Freiburger Barockorchester' for many years and has undertaken worldwide tours with them as an orchestra player or as a soloist. In 2002 he recorded, under the direction of Gottfried von der Goltz, the concerto for flute by Wilhelm Friedemann Bach, which was rediscovered in Kiev. His recording of Johann Christian Bach's concerto for flute came out in 2007.
Furthermore Karl is co-founder of and flautist in the orchestra 'La Stagione Frankfurt' directed by Michael Schneider. In addition to the very first recording of the flute concertos by Carl Friedrich Abel and Ignaz Holzbauer he has been working with Michael Schneider and 'La Stagione' for some time on recordings of all the flauto traverso concertos by G. P. Telemann within the framework of a complete recording (on CPO) of Telemann's concertos for wind instruments.
Karl also performs with the trio 'Sérénade à Trois' with Petra Müllejans (violin) and Sonja Prunnbauer (guitar) playing music of the early romantic period on period instruments. One of their CDs introduces works by Wenzelaw Matiegka. A CD with premiere recordings of works by Francesco Molino will appear shortly.
Karl is an enthusiastic and busy teacher; he regularly holds master classes and lectures on performance practice in the eighteenth century. He is professor for early flutes and historically informed performance at the conservatoires in Frankfurt and Freiburg.
[ Back ]