Michael Schneider, recorder and transverse flute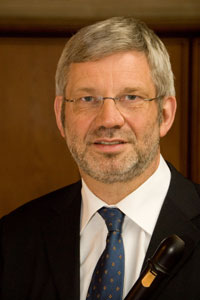 Michael Schneider is one of the most versatile players on the early music scene.
As a soloist he performs with numerous ensembles and orchestras, and as a chamber musician he plays mainly as member of the CAMERATA KÖLN, which he also co-founded.
He is the director of his own baroque orchestra 'La Stagione Frankfurt' and has worked as a guest conductor with numerous other orchestras, establishing his international reputation with outstanding performances and recordings of operas, oratorios and symphonies from the baroque, early classical, and classical periods.
Michael is a professor at the Frankfurt conservatoire and is head of recorder and the department of historically informed performance. His teaching also includes master classes in Germany and abroad such as the Jerusalem Early Music Workshop, the Paris Conservatoire, the Stockholm Conservatoire, the Summer Academy for Early Music, Innsbruck, and many more.
He has recorded almost all of the baroque recorder repertoire on a range of labels including Harmonia Mundi, MG/Delta and Capriccio/CPO. In 2000 Michael was presented with the 'Telemann - Award' from the city of Magdeburg for his services to this composer's works.
[ Official website ]
[ Back ]